Just a quick post before I get up from the computer. Sometimes a simple visual is all that's needed
Is Gold A Bubble?
US Money Supply (Above)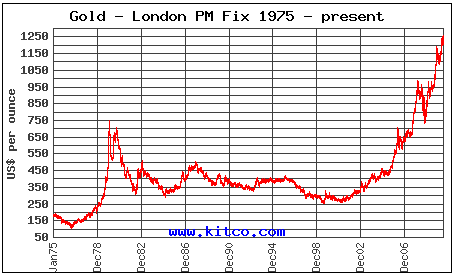 Gold Price In USD (Above)
Notice any similarities. Look at the trend. Gold isn't simply a "hedge against inflation". The price of gold flows with the supply of money in the market.
Gold isn't a bubble, but simply a reflection of the USD.
So, will gold decrease? Only if our government reduces the money supply. Look what happens to the money supply as of 1970. It exponentially jumps. That's when the gold standard ended completely.
Until our government drastically changes it's monetary policy, there will NOT be a long term drop in the price of gold.
During the Roman Empire, you could purchase a new, nice toga, a new belt, and new shoes with a 1 ounce gold piece. In the 1920s in the United States, you could walk into a nice men's store and purchase a new suit, a new shirt, and a new pair of shoes for the same price of a 1 ounce gold piece (about $20.80 at the time).
Today, with gold hovering around $1200-$1400 an ounce, you can still buy a nice suit, a shirt, and a pair of shoes for about the same price.
You tell me if gold is a bubble.
Let Freedom Ring!
B.
P.S. Please, Allow Me Deliver My Final Knockout Punch. Does This Look Like A "Bubble" To You...